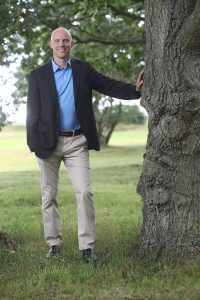 Markus grew up in the North of Sweden and played many sports as a child. After elementary school he quit ice hockey, to pursue his dream of becoming a golf professional. After a successful amateur career he turned professional in 1994 and spent over 15 years on the golf tours of the world earning 8 victories. Today he works as an an entrepreneur,  golf coach, author and speaker. Markus lives in the South of Sweden and coaches out of the prestigious Ljunghusen Golf Club.
Apart from golf, Markus´passion is people and especially the human mind. This passion brought him to Lund University and a Bachelor of Science in Psychology. Markus often describes how the meeting with his golf students is more than just a golf lesson, "it is a true meeting with a person". Markus often says that this meeting lets him come home at the end of the day more energized than when he left for work.
Another of Markus´ interests is writing. He released his first book, Golfarens Sjätte Sinne October, 2016. The English version The Golfer´s Sixth Sense was released in 2017. In spring 2019 he released the practical sequel Golfarens Sjätte Sinne – Övningsbok and the English version The Golfer´s Sixth Sense – Practice Handbook is due release spring 2021.
Markus is a morning person. He gladly travels to Cape Town, is childishly in love with  Christmas and cerises the caviar from his grandmothers native village of Kalix.
Westerberg lives in Ljunghusen, south of Malmö. He is working nationally and internationally as an entrepreneur, golf coach, personal coach, author and speaker. He also assists the Swedish PGA education program for becoming coaches.